8. Dark Cloud Cover:
Dark Cloud Cover is a bearish candlestick reversal pattern, like the Bearish Engulfing Pattern or can say opposite of Piercing Pattern.
Dark Cloud Cover Pattern occur when a bearish candle on Day 2 closes below or 50% of the middle of Day 1's candle.
Its a market reversal candle stick pattern, It forms at the resistance level and after forming of this candle the market will go down (Sell).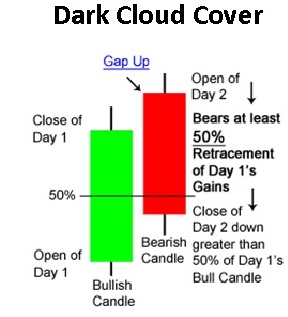 Criteria of taking Trades:
1. The first day candle should be white/green & occurs at the end of the up trend.
2. The second day candle should be opens higher than the trading of the previous day.
3. The black/red candle should be closed more than halfway down of the white/green candle.
4. The longer the red candle and the green candle, the more powerful the reversal.
5. The greater the gap up from the previous day close, the more powerful the reversal.
6. Large volume during these two trading days is a significant confirmation for the Bearish signal.