10. Morning Star:
The Morning Star Pattern is viewed as a Bullish reversal pattern, usually occurring at the bottom of a downtrend.
The Pattern consists of three candlesticks:
1. A long Bearish candle.
2. A small Bullish or Bearish candle or a Doji that opens at or below the close of the previous candle.
3. A green Bullish candle that opens at or above the high point of the previous candle and closes at or above the center of the first candle.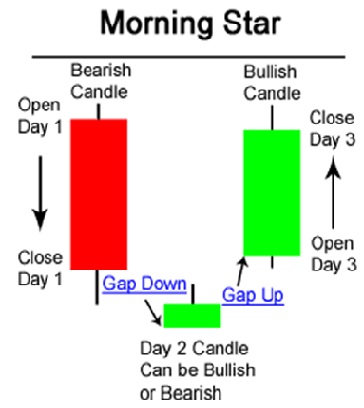 Criteria of taking Trades:
1. The first part of a Morning Star reversal pattern is a large Bearish red candle. On the first day, bears are definitely in charge, usually making new lows.
2. The second day begins with a Bearish gap down. It is clear from the opening of Day 2 that bears are in control. However, bears do not push prices much lower. The candlestick on Day 2 is quite small and can be Bullish, Bearish, or neutral (i.e. Doji).
3. Day 3 begins with a Bullish gap up, and bulls are able to press prices even further upward, often eliminating the losses seen on Day 1.
4. It forms at the Support level i.e on downtrend. After touching Support level the market will be reversed and will be in uptrend.